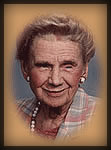 Alta Abernathy was born August 23, 1902 in Teague, Texas, to Irez and R.M. Senter. A splendid student throughout her school career, she attended Baylor University and majored in English.
One summer morning between her Junior and Senior years at Baylor, Alta's parents asked if she would like to ride with them out to the site of the deepest oil well being drilled in Texas. Eager to experience something new, she agreed, little realizing that her life was about to head in an exciting and new direction. She met an unusual young man named Temple Abernathy who was helping his father, Jack Abernathy, drill the deep well. The two spent a good amount of that summer enjoying each other's company and were married before the year's end.
Alta and Temple were blessed with 64 years of continuing adventures including three daughters, six grandchildren, and seven great-grandchildren.
Alta is a gifted storyteller who has entertained children for years with her published stories such as The Christmas Puppy, The Bird Convention, and Mr. Rabbit. She spent many years involved with the TRITA Story Club in Wichita Falls, Texas and shared her association with the National Story Art League.
Many of Alta's stories were inspired by elements of nature as well as the wild rides of Temple and his brother, Bud.