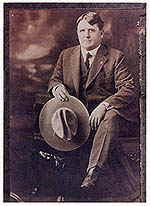 Jack Abernathy was born in 1876 in Bosque County, Texas. In 1882 his family moved to Nolan County, Texas and entered the booming cattle business. Jack was virtually a music prodigy and at age 6 played piano in a Sweetwater saloon for $13.00 an evening. His mother was unaware of this activity and quickly put a stop to it. At the time, cowboys were paid $30.00 a month.
At 11 years of age, Jack worked as a cowboy for the A-K-X Ranch and helped drive a large herd of cattle 500 miles to market at Englewood, Kansas. At age 15, he joined the J-A Ranch and soon earned the job and salary increase as "first saddle" - whose job was to break the meanest, orneriest horses on the ranch so other cowboys could then ride them.
In 1905, Jack's life took an unexpected turn when President Theodore Roosevelt requested that Jack demonstrate his unique hunting skill. It seems Jack had learned to capture prairie wolves with only his hands. Teddy was so impressed when he witnessed, first hand, Jack's ability that he appointed him U.S. Marshal to the Western district of Oklahoma Territory - the youngest U.S. Marshal in history.
With this appointment, Jack and his wife, Jessie Pearl moved to Guthrie, Oklahoma, which was to become the state capitol in 1907. Jack and Teddy became friends and through Teddy, Jack was introduced to many of the famous men of the day, including Mark Twain, Jack London, O'Henry, Frederick Remington, Thomas Edison, Alexander Graham Bell and Andrew Carnegie. His acquaintance with Thomas Edison led Jack to make motion picture films of the wolf hunt and of his sons Temple and Bud's adventures.
Jessie Pearl died in 1907, not long after giving birth to her sixth child, Pearlie Mae. The family moved to Wichita Falls, Texas area during the oil boom days and Jack became a wildcatter. Temple joined his father in that occupation and Bud studied law at the University of Oklahoma becoming a lawyer in Wichita Falls and eventually a judge.
Jack died in 1941 and is buried in Wichita Falls, Texas.